2020 Château Lilian Ladouys,

emotion & generosity!
🌤️ When it came to accommodating the hottest year on record since 1900, we relied on our in-depth knowledge of our soils and the resilience of our vineyards, which are in the process of conversion to organic agriculture.
Thanks to significant levels of rainfall in winter and spring, the soils were able to retain sufficient water to counteract the effects of the summer drought. Very early on, we had to intervene in the vineyards, removing leaves to create a favourable microclimate that helped the vines resist the threat of mildew.
🪨
An exemplary response from our terroir
In 2018, we made the choice to refocus on our finest Saint-Estèphe terroir, which consists, in essence, of deep clay gravels (80% of our vineyards). That decision really paid off this year, with flowering taking place a week earlier on those gravels compared to the clay-limestone plots.
This early flowering, combined with the summer heat, permitted us to begin harvesting a few days earlier than in 2019, with the aim of preserving the 'al dente' character of the fruit. So we started picking on 15th September and finished on 30th September 2020. The Merlots distinguish themselves by their remarkable depth. The Cabernet Sauvignon berries we picked were very small and concentrated, meaning that yields were lower than usual.
🍇
 Winemaking with extreme precision
After intense effort to chill the vats down, to prevent any excess in the vinification process, gentleness was the watchword when it came to making this year's wine. To make sure that the harmony we sought wasn't unbalanced by the exceptional tannic potential of the grapes, our team worked with great precision to keep everything in perfect equilibrium. The Merlots, which are beautifully intense, dominate the blend, just as they did in 2019.
🍷
Harmony and passion
The fragrance of Château Lilian Ladouys 2020 blends fresh blackberries and notes of Burlat cherry; the palate is rounded, powerful and intense, with velvety tannins. The wine has the breadth and generosity to encompass notes of liquorice, orange peel and cocoa.
La Devise de Lilian 2020 is scented with tangy notes of red fruits such as cranberries; initially remarkably gentle, supple and appetising on the palate, it culminates with a hint of chocolate.
♻️ 2020, a magnificent setting for our values and convictions.
For this vintage, we have developped a new packaging of a remarkably high environmental standard, original and daring in design, made by the young designer Julie Guillot. It represents another step in our Château's approach to development that respects the environment.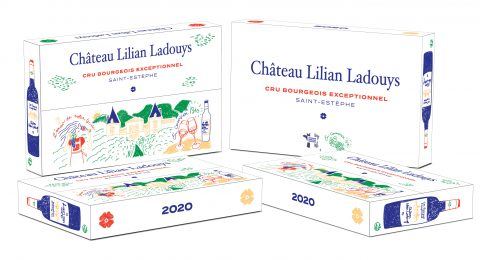 If you have further questions, please do not hesitate to contact us :